Build Ordering Website with Delivery System
by Ordering on Jan 18, 2019 6:41:17 AM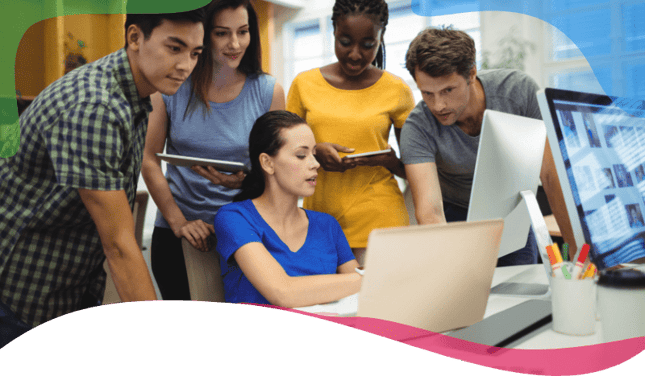 Trade, be it barter exchange or buying and selling of goods and services has been prevalent for centuries. No one can be self-sufficient. And this brings out the need for demand and supply of products and services. Transactions have been going on all over the world for centuries, locally, and across locations. Keeping the same concept in mind, now think electronic.
Ordering websites, also known as e-Business, or electronic business, is merely the sale and purchase of services and goods over an electronic medium, like the Internet. It also involves electronically transferring data and funds between two or more parties. Simply put, it is online shopping as we commonly know it.
Ordering websites or e-Commerce started way back in the 1960s when organizations began to use Electronic Data Interchange (EDI) to transfer documents of their business back and forth. The 1990s saw the emergence of online shopping businesses, which is quite a phenomenon today. It has become so convenient and comfortable, that anyone can shop for anything right from a living room, with just a few clicks. This has evolved more with the emergence of smartphones, where now, you can shop from anywhere and anytime, with a wireless device connected to the Internet. Now you can search for almost any product or service online, without having to go anywhere physically. Ordering websites with the delivery system are online portals that facilitate online transactions of goods and services through means of the transfer of information and funds over the Internet. In the early days, e-Commerce was done partially through emails and phone calls. Now, with a single website, anything and everything that a transaction needs can be executed online.
There are different e-Commerce websites for every field. The most common type is retail selling or what we may call ordering websites. But there are many others too, like auction websites, business-to-business services, music portals, consultancy websites, finance management websites, and the like.
With the use of mobile devices and laptops increasing every day, there are a lot of advantages of e-commerce like –
1.

Global market reach
2.

A global choice for consumers
3.

The short product/service distribution chain
4.

Lesser costs and pricing
If you are looking to start an eCommerce website, there are a few things that you need to understand and keep in mind to be successful in the game. There are many online shopping websites out there, and the top few are such great brands that they control most of the market share.
Now, this does not mean other players don't stand a chance. If you have a small business, you can concentrate on your location, like a city or state.



You could also specialize in a particular line of products that sets you apart. Whatever the reason, you need to keep these pointers in mind to run your online store efficiently and successfully.
First, your ordering website and delivery system should have a neat, clutter-free, and user-friendly interface. Users should be able to find whatever they are looking for quickly, be it pricing, images, carts, copy, etc. Your website loading time should be less. The pictures and text of your products or services should be professional. Product photography is entirely crucial for e-commerce success. If you have many photos, address a background removal service and ask them to place your products on a white background, add natural shadows, reflections or crop it to the proper size. People love to see what they are getting, and what they see is what makes them decide. If possible, include videos for essential products.
As far as possible, if you are selling a product(s), do not charge for shipping, because, in most cases, that is a deal breaker. Always display the number of items in stock. You do not want to keep your customers guessing, or disappointed. Regularly conduct limited time deals, sales, and special offers. These things have attracted people before, and will always continue to do so. Recommend related products when a purchase has been made. A bundle offer is tremendous and should turn out to be cheaper than buying different products separately.
Now that we've talked about what makes a good e-commerce website, how do you measure growth?
Are you performing well? What should be the key metrics you should be tracking?
Some of the metrics that most people track are:
● Product Sales
● Category Performance
● E-commerce Orders
● Average Order Value
● Bounce Rate
● Average Time on Page
Make sure you are in control of your analytics and know precisely what is working, and what is not. Demographics also play an important part as far as target consumers are concerned. You want to display the right things to the right people. An FAQ section is necessary to answer all common queries that may arise. Do not leave any room for doubt, as that breaks a sale even before it is done. Your contact information should be clear, complete, and up-to-date. Trust plays a critical role in online shopping.
Have multiple payment options available. Every individual customer has his preferences. Make sure you cater to everyone. You return policy should be properly in place and one that suits your customers. Most people decide on buying after looking at the return policy of an e-Commerce website.
Make sure you design your checkout page correctly too – that is the final hurdle or step in the entire purchase workflow – and is often underestimated. Haven't you added products to the cart but stopped short of actually completing the purchase? Yes? So make sure you pay attention and read up about how to design a checkout page carefully.
Last but not least! Post a lot of reviews and testimonials on your website. People love to read other customers' experiences before becoming a customer themselves. Post a few negative ones too. This section should not look all made up to suit your business. If you are thinking of setting up your online store on WordPress, then search free or premium e-commerce WordPress themes which allow you to customize your website for various elements like display the latest products, bestsellers, highlight products, showcase testimonials, etc. Or merely design one for yourself using a free e-commerce UI kit.
While you are managing an e-commerce website, there are mountains of the task to manage. You could be hassle-free if you hire e-commerce Virtual Assistants.
A virtual e-commerce assistant could do verities of works such as Product research. Product description writing. Image editing. Product listing and optimization. Managing inventory. Handling order processing.
E-Commerce has made the world a much smaller place, thanks to the Internet. It is convenient, fast, and comfortable. The number of people turning to e-Shopping is only going to rise as time goes by. So make your business go online, choose a good e-commerce WordPress theme and set up a clutter-free and easy to use e-Commerce website, and see your sales and profits rise.