Ordering alternatives to keep selling food in COVID-19 times.
by Ordering on Jun 30, 2022 3:27:36 PM

In these COVID times, there have been some difficulties for businesses to continue to operate normally. In addition to the restrictions that have been imposed, it is also very important to take care of people's health. That is why at Ordering we prepared this article where we give you some tips so that you can operate safely and offer your customers the best possible service.
Health comes first.
The first thing to do is maintain health measures for all your employees. The use of face masks must be mandatory. In addition, using antibacterial gel constantly is recommended to keep the products sanitized.
Something that is also recommended is to get a thermometer and be constantly monitoring the temperature of the employees to prevent infections. Sanitizing products such as spays on products are also a good option to offer customers total assurance that their items are 100% clean.
Customer's comfort.
In addition to offering clients a complete sanitation process, it is also important that safe distance measures are adhered to. This is a crucial factor that many customers take into account when buying your products. That is why we offer you a series of practical solutions for your business.
Offer a good variant Delivery Types to your customers.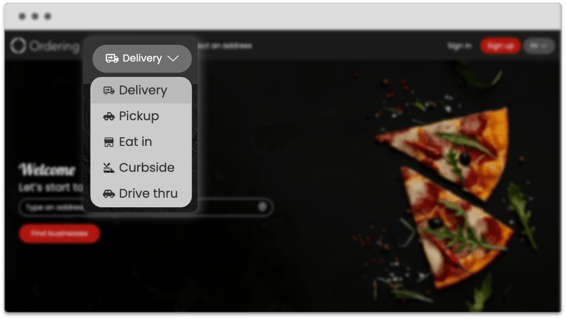 This new feature will help you add more

Delivery Types

to increase your customer's choices at the time of purchasing from your Ordering Website & Apps.
Also, your Business App will receive the delivery type selected by the customer, to create the order according to the delivery type.
- Delivery: Of course, a well known feature, this is a must to have, a delivery option.

- Pick up:

If your customers wants just to go to your place and pick up the food, that's it, you can also offer this.
- Eat-in:

When the customers want to eat their food inside your business.
- Curbside:

When the customer is in a designated place (Parking Lot) inside your business ready to receive their food.
- Drive-Thru:

When the customer picks up their order from your business through a service window.

With the new delivery types "Curbside" and "Drive-Thru" you can offer your customers a new contactless alternative to collect their products.
In addition, as a Power Up for your apps, we include the contactless delivery option, with which your customers have the option of choosing that the delivery person leave their products at their doorstep without having contact.
Ordering Kiosk another option for less contact with a human being.

With the Ordering Kiosk you can offer a platform in your business where customers can place their orders themselves. These will avoid contact with employees and streamline your production line. It is recommended that you are constantly sanitizing the platform, if you do, this will increase health measures and give more security to your customers.
Contactless Delivery for your deliveries.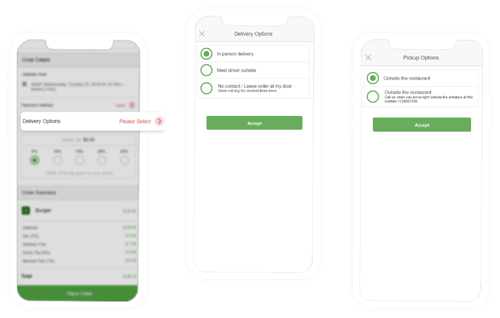 Perfect for times where social-distance is vital to avoid any kind of contagiousness, or where the customers need these options.
In your Ordering Website & Apps, this option will show at the checkout after the delivery method, there's this option with multiple options of final delivery (at door or hands).
The option that was selected by the customer will get shown in the Management and Delivery Apps, this way the business and drivers will know what to do with that order that is going to deliver.
If you want to know more about these and other solutions that we have for you, we invite you to enter the following link and book a meeting with one of our experts. They will help you to choose the right solution for your needs.