How to build a customer-friendly mobile site for your restaurant
by Ordering on Jun 30, 2022 3:43:05 PM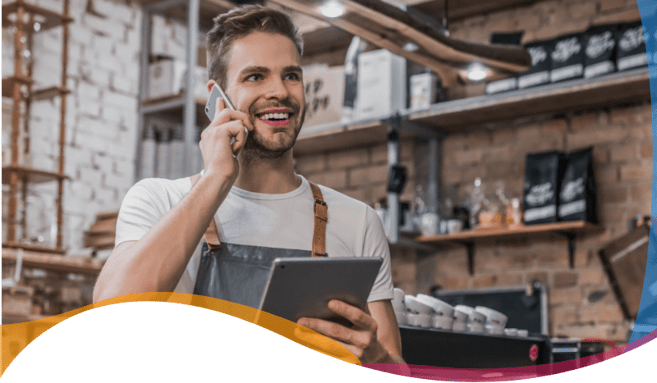 More users today use their mobile phones to look for the best place to eat, whether they are going out or ordering in. This puts restaurants without mobile sites at a huge disadvantage when it comes to user experience.
Building a mobile-friendly site for your restaurant isn't difficult. In fact, you don't really have to make many changes. You just need someone to work on the site's back-end to make it responsive and more mobile-friendly.
When it comes to user experience, you need to employ various elements that make the journey on your mobile site simple and easy. In order to this, focus on:
The customer's journey
The journey plays a vital role in the

bounce and exit r

ate of your restaurant's site. The simpler the journey is, the more users will remain on your site and proceed to order.
Ideally, you want to make navigation and ordering as simple as possible. You want users to be able to find the menu and, with a few more clicks, be able to order whatever they want. For a restaurant to simplify its user's journey, you should have:
● A decluttered design displaying only relevant information for users.
● Clear navigation on top with the menu for ordering as one of the clickable links.
● Simplified ordering process. The user should give basic information to sign up, select the items they want to order, and proceed to payment. To make it easier for repeat customers, you can have the option for them to login in and order what they want with a click of a button, similar to Amazon's one button checkout. Also, have an option for them to view what they have previously ordered so that they can order their favorites again.
Integrate an ordering mechanism
The ordering mechanism of a restaurant site has two layers: the menu and the ordering platform. Both are equally important. You want to make sure you design your menu so that it can be easily read on mobile devices. 70% of consumers say that the ability to read a menu on a mobile device is important in their decision to order from that site.
Since mobile screens are much smaller than a desktop monitor, the menu should scale down and adapt to the screen it is being accessed on. You don't want users to have to zoom in and out to read and order from your site. This will completely ruin their experience and increases the chances of them abandoning your site.
Rather than going with just any e-commerce platform, you need one that is specifically made for restaurants such as Ordering.co.
The platform is desktop and mobile friendly. It also gives you complete customization of the design and ordering process without any coding knowledge. It ensures that the user experience from the menu to their order completion is top notch. This will have customers coming back to you again and again.
Optimize your site speed
Users are more impatient today than ever before. 53% of mobile device users abandon a site if it doesn't load within 3 seconds. You don't want to lose out on potential customers because your site doesn't load on time. There are many different aspects to a site that contributes to its load time. You want to keep your site as light as possible by:
● Optimizing your images by cropping and reducing their size Embedding any video on a platform like YouTube or Vimeo.
● Hosting videos on your site will drastically add to its size and load time.
● Reducing the amount of JavaScript used on the site.
To see how your restaurant's site fairs as far as load time goes, you can use

PageSpeed Insights

by Google.
Conclusion
Creating a customer-friendly mobile site is vital for any restaurant. As more people use mobile devices to search for everyday solutions and searching for food is a huge part of that segment. Making your site more mobile-friendly isn't rocket science, so don't wait! The success of your restaurant depends on it.
In conclusion, I'd like to say that food delivery platforms have great potential if they are built properly. That means paying attention to your client's problems and offering them new and unique solutions. And, of course, hiring a team of experienced developers as they are responsible for the system's convenience and performance.
Author
Karen Evans is a former college student who, after making real money learning how to build and scale niche blogs, decided to go full time and hasn't looked back since.
After seeing so many people waste time and money trying to learn how to create websites that make money she decided to create the ever-popular

StartBloggingOnline.com.
So far over 9,500 new blogs have been created using her guide!
When Karen isn't blogging, she enjoys spending time with her family, which usually involves finding some water to cool off in!
Sources: