How to brand your flower delivery service: 4 Branding principles
by Ordering on Jun 30, 2022 3:51:31 PM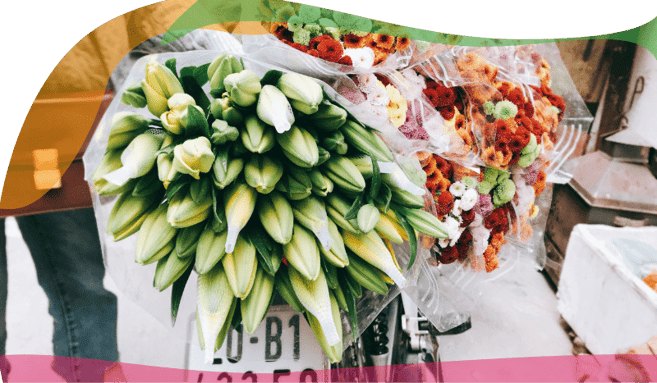 In the business world, branding is the difference between a sale won or lost. In a competitive market, a strong brand sets a great business aside from a good business.

But if you're running a flower delivery service in 2019, how can you perfect your branding and stand out against the crowd? Read on to find out how.
Create a business website that showcases your work
Your website is your brand's welcome mat. It's how customers find you on the web, where they place their orders, and it informs how they perceive your business. Your business website is where all your branding comes together: colors, fonts, personal style, and so on — so make it count.
Pick two or three colors maximum that looks good together, and stick to this palette throughout your website. Ditto for your font: use no more than two different fonts for your copy and use only these. There are lots of unique open-source fonts available online, so you'll easily find one that suits your brand.
Once you've chosen your color scheme and font, it's important that you stick to them throughout your website. No matter what page your customers are on, they should know immediately that they are experiencing your brand. So, make sure every page on your website uses the same color, font, logo, etc.
As a flower delivery business, your product lends itself to exquisite visual content, so embrace it. Use one or two large high-quality photos on your homepage to greet customers as they land on your website. Excessive images create clutter and reduce the visual impact of your website.
Ordering Inc 's is perfect for this. As well as providing sophisticated, easy-to-use order fulfillment functions, the editor tool offers intuitive customization to let you easily brand your website.
With a straightforward drag-and-drop interface, you can quickly transform your categories, product pages, and more to suit your unique brand style.

Click here for a live demo.
Internal link
Takeaway tip: your website branding should be reflected throughout your marketing, and this includes your email marketing as well. If your customer's click-through from your email to find different color schemes and fonts altogether, the discord will put them off and detract from your branding.
Craft an exquisite logo to stand out from the pack
The art of the perfect logo is branding alchemy: difficult to nail, but worth it for the final result. Arguably the most important aspect of your visual branding, your logo speaks volumes about your business.
Firstly, consider whether you want a stylized version of your business's name (such as the McDonald's logo), or a simple graphics instead, like the Apple logo. If you opt for the latter, always choose an image that reflects your industry.
Naturally, you'll include at least one flower in there if you do, but let's be honest: every flower delivery service under the sun has flowers in their logo. Eschew these generic logos and stylize yours to make it stand out.
If you decide to take the brand name route, you'll need to go back to the color scheme and font choices you made earlier. Your logo should reflect your brand colors and, where applicable, your font too. Simple details like these help your customers immediately recognize your brand.
Takeaway tip: it's all very well telling you to be creative, but finding inspiration can be hard. If you're struggling, the best thing to do is assess your competition.

Head to Pinterest for some inspiration

that will take your logo in a new direction.
Provide nothing less than flawless customer service
Like any delivery service, impeccable customer service is key. From food to flowers, customers expect flawless service from end-to-end. It's the face of your company, and it's what turns a generic business into an unforgettable brand. Consequently, customer service is one of the most effective (and easiest) ways to enhance your branding, showing prospective customers that you care about your clients.
And the undisputed key to great customer service? Speed. Not just in your delivery time, but in the time it takes for you to respond to customer queries or complaints too.
You probably haven't got the money to spend on 24/7 customer service team. Thankfully, there are a number of inexpensive AI chatbots available to make this easy for you.
Virtually every online business uses automated chatbots to deal with customer queries. You only need to look at any self-starter online stores to find that almost all of them incorporate AI chatbots into their customer service strategy. Even the

most affordable AI widgets

offer simple scripts that can resolve most major issues.
For a decent chatbot, you will need to pay a little extra — but it's worth it. When compared to the value it brings your customer service, it's a worthwhile investment that pays dividends for your brand.
Takeaway tip: the most effective chatbots are those with personality — or rather, an automated recreation of personality. When it comes to writing your chatbot script, don't shy away from a personable, human style. Doing so gives your customers the impression they are dealing with a real person (even when they know they're not), putting them at ease and strengthening your branding.
Create a social presence with an emphasis on visuals
S

ocial media is where your branding really blooms (pun intended). It's free, easy to get started with, and has a low barrier to entry that makes it easy for businesses to get stuck in.
Naturally, you should have a Facebook Business page for your flower delivery service. It's the most ubiquitous social platform around, and most, if not all, of your customers, are regularly active on there.
But as your business is flowers, it makes sense to embrace visual social platforms such as Instagram and Pinterest. These image-centric social networks let you showcase your exquisite bouquets in all their glory, enticing prospective customers to your brand.
Accept no half-measures with your photos either. Use strictly high-quality photography for both Instagram and Pinterest — anything less will detract from your branding. You can certainly invest in an expensive digital camera, but most of the latest smartphones offer powerful, high-res cameras as standard.
And while your flower arrangements are obviously important, so too are your photo arrangements. Always perfect your poses.

There's no such thing as over-arranging here: spend time curating artful flower arrangements to create striking floral images that captivate your customers.
Takeaway tip: your social profiles won't get followers on their own. Create and join conversations online by

tagging your photos with relevant hashtags a

nd commenting on other (non-competing) accounts in your niche.
Struggling with your branding? Fret no more. Follow the tips above and create a powerful brand that will make your flower delivery service stand head and shoulders above your competition.