Food Delivery Driver App
by Ordering on Jan 11, 2019 2:43:33 AM

If we name an object that is always with us, then indeed it is the smartphone.
Smartphones are minicomputers, they can almost perform all of the tasks that a computer performs.
Moreover it's entirely impractical that one would carry a computer with themselves, so here comes the era of smartphones which has made our lives so exciting, we can do it all from a few swipes.
So, since this is all about smartphones or tablets, then we must also bring one of the most reliable and innovative online platforms through which we can fulfill almost all of our needs, and yes, you guessed it right!
We are talking about Apps;

Apps are software applications through which we can execute many of our daily needs, such as order food, bankings, shopping and what not!
However, the app that we are talking about here is regarding the

Food delivery driver app.
Food delivery driver app

is an app specially designed for the drivers or the delivery agents who deliver the orders to the customers from the restaurants or from any eateries from where the food is ordered.
So in this regard, we can all say that besides all of the systems that a restaurant and a

business owner needs

, there are needs of other apps as well such as the driver apps or the delivery apps, and those are important as well.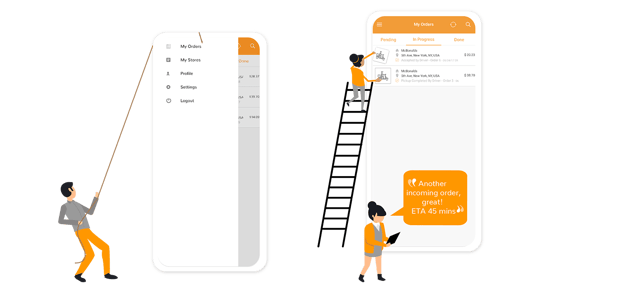 Well, speaking of the

delivery apps,

we all can more or less say that numerous apps are present in the online marketplace, but in order to be a step ahead of your competitors, you certainly need an app with highly user-friendly and modified features.
Food delivery driver apps should also have a facility through which it can be synchronized with other systems that are for the managem

ent and other s

tuff.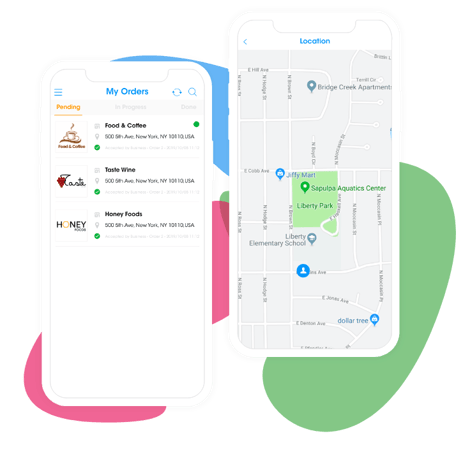 Delivery App (iOS & Android)
A food delivery driver app should also possess the technical qualities to make it faster as it would fetch a large amount of data whenever it gets updated.
Apps are the fastest platforms available on the internet for executing the tasks. So, when a driver receives the order, with just a few clicks, he will be able to view the location and can deliver the orders within the mentioned delivery time.
So all of this happens within some minutes, so in this context, it can be easily said that through the apps like this, a restaurant can accept and serve their customers in a much faster way which is very appropriate than doing it manually.
Manual management always comes with the risk of bad customer service.
There are many business owners or other restaurant sectors who do have a presence in the online marketplace, but they always try to avoid these kinds of extra apps which are equally important as well.
They still think that it will
cost them money, but interestingly not, it can cost money, but it is always helpful. Some restaurants and eateries have their websites, but they do not have their driver delivery apps, which in turn makes very tough for them to manage for the delivery agents in order to deliver the food.

The Driver delivery app that we provide is one of the most trusted products in the marketplace.
It comes of great help for the drivers as the drivers will have the power to manage all of the incoming orders and most interestingly, with just a few clicks, only press 'Accept' or 'Reject,' and that's it, it also has the facility to directly send email notifications to the customer updating the status of their orders.
Wow, it is so cool. It has also got the features to manage multiple orders at a time, not only this, and there are other features as well like the drivers will be able to change the profile details like the pictures and all.
Apart from all these, in case of emergencies, there is also an option to contact the concerned restaurant or the owner through a button called ' Support.' While talking about all of these, we must not forget to inform you that our delivery apps have got the fastest and the most reliable navigation systems.
Maps and routes are synchronized in such a way that the driver will never miss any routes.
Having said all of these, it should be noted that these apps also comes with the option of customizations.
You can easily customize the driver app with any new features that you think should have been present. It is all about new possibilities, and we at Ordering.co is harnessing those with pride and most importantly, with your support.