Best Multi-Vendor Software
by Ordering on Feb 9, 2018 5:26:09 AM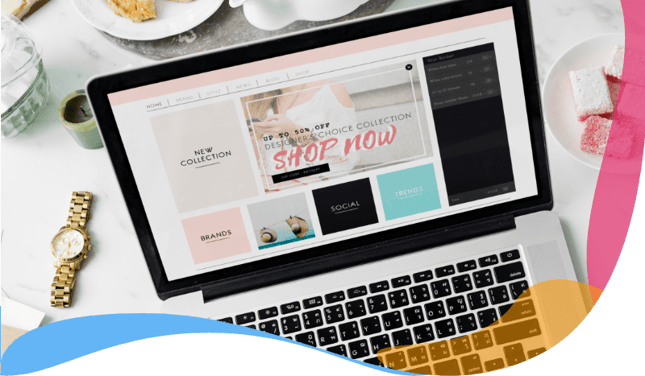 Are you looking for the best Multi-Vendor Software? Don't worry! We've got the best solution for you.
The assured solution for your business!
You must be tired of using the old school ordering software and paying a high subscription price all the year without getting the actual results for your purpose of obtaining such software. Moreover, nowadays most of the companies to assure you that they sell a Multi-vendor ordering system, but that doesn't happen to be true and accurate all the time. As either you have to pay extra to get a multi-vendor software apart from what you have paid before to sign up, or they don't allow a multi-vendor software at all.
If also, any company does provide you with such platforms to do the multi-vendor ordering, they lack such essential features which a business must have to have a profitable online business.
Apart from this, they do lack in new business innovative techniques & skills of helping your business grow. So you have to be more attentive when choosing any solution for Multi-vendor software for your business. As it is a crucial step that will depend on your business future, and I don't think that you would be looking for any solution on a short-term basis.
For those obvious reasons, we came forward to help you get the actual & leading solution to help you create your dream Multi-vendor business with ease and having a 100% security to work with it for a lifetime partnership.
Ordering Co

is one of them which has all the essential elements that you might always be looking to get it for your business, and we are pretty sure that you will love to have them for your Multi-vendor online business. They have all innovative tools, latest features, proper business planning, solution for business growth, Customization center to help you achieve your business goals with further modifications by consulting with experts, etc.
Apart from this,

Ordering

has a great user-friendly software which is very easy to use, no doubt on that. You can create your Mobile apps for iOS & Android with your brand name. Ordering builder, which is one of their latest integrations they have made, which can help any non-IT experts to become master of coding and making any changes to codes without actually touching the systems in real. Sounds strange? Trust me, is it right, and that is why it makes Ordering Co a leaders now in today market for their innovative creations & latest business techniques!
Within Ordering Multi-vendor Software, you can create unlimited business types like Restaurant business, Groceries store, Wine store, laundry store, Medical shops, Accessories store, Shoe store and other such verticals, that you can think off.
Amazingly, you can have all of those Multi-vendor business platforms within one system purchase, I.e., you don't have to get an individual system for each business types you need to open, and that is where you can save a lot of your money. They are many of such features and facilities that you'll be getting using

Ordering Co

software, which is now considered as the " Best Multi-Vendor Software.
I think you will love the new sales slides we have done for you, to help you know about all of our products, we work with & the services they can do to help you make your work much more comfortable than before
In this site are the products that you can use for your own Multi-vendor business with Ordering Co.Ordering Website
Ordering website provides you with the best user experience as recorded till now, it's that simple & you can place your order in seconds, as compared to other similar website solutions. It has got flexible search by your location, which helps you get access to all related store near you.
Thus, contributes to making you place an order faster. Ordering website is designed just to make your users feel comfortable when ordering with its new innovative ideas. It has also got a flexible checkout process.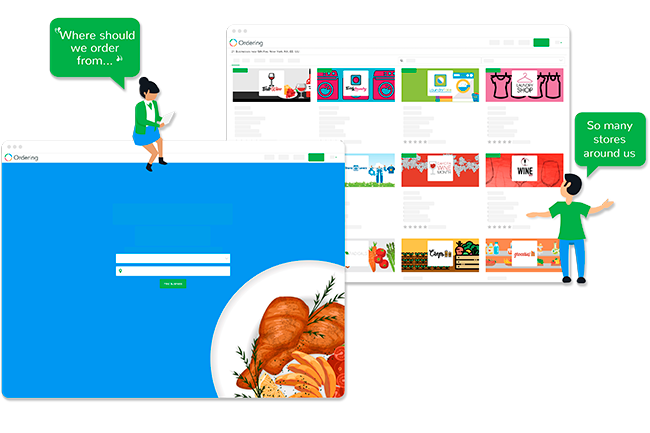 Ordering App for iOS & Android
Ordering app, which is a useful & user handy way of placing an order in no time, using their smartphones, Only your users have to download the app and get the best use of it on placing an order when needed. It also helps your users to save your users details and card details.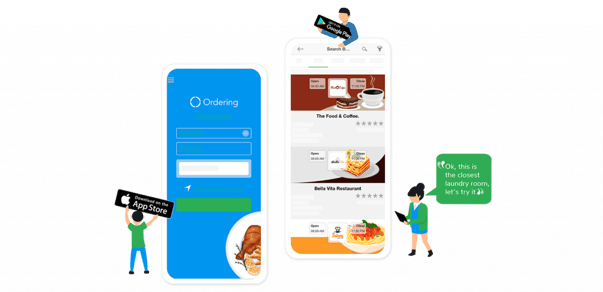 Business App for iOS & Android
With the business app, it will help you manage your business & orders efficiently within a few clicks. This app helps your business owners to accept/reject requests efficiently & to assign an order to any driver for its delivery.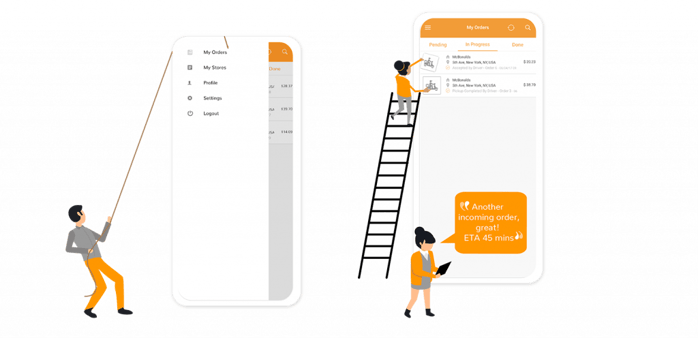 Delivery App for iOS & Android
It has been proven to be the best app for your business, since it helps you to manage your delivery smoother than ever, and helps your driver to get the exact location of your customer to deliver the order on time. It helps your driver to track the precise location on the map.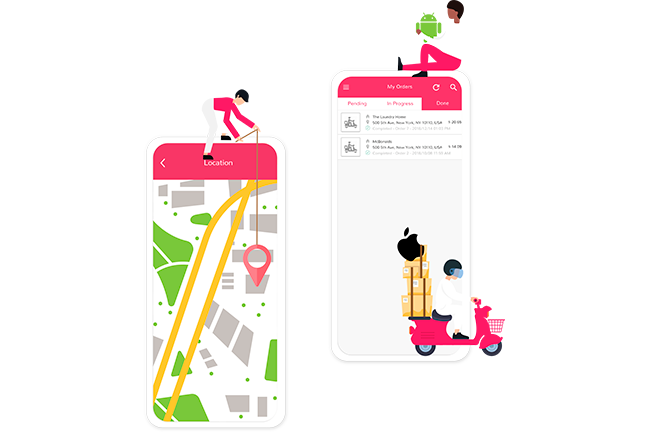 Single Business App for iOS & Android
With Ordering single business app, it helps you to get each of your business with a separate app with their brand, logo & apps icon for ordering.
Which makes each of your business a great new way to expand faster on the web, and thus helps you to get massive online sales. Ordering a single business app has it's more added pros like reaching the targeted audiences who like to place an order from a particular store without searching for many at a time. It reduces your user's search time.
Helps you to concentrate your users on the store without being diverted to other similar business to get a service and much more.

Delivery Dashboard (New Invention)
Another Ordering Co unique invention, which makes your delivery management easier than before. As my delivery panel, you can manage, assign and track your delivery agents live on a map, like what we can see on Bringg.com, but as compared to bring, its way to better & efficient regarding managing your drivers like an expert & with ease.
Also, as compared to others such software companies, they don't have it as of yet, to provide you with a high tech management tool for your drivers & deliveries of your customer orders.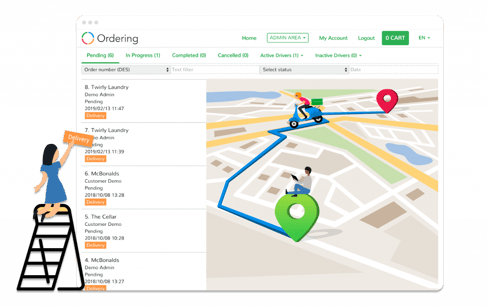 Ordering Builder (New Invention)
A great new concept & invention, created by ordering itself that can help you to make any coding changes to the website as well as on your mobile apps that easy without touching the codes.
Using builder, you can add images to your site & for apps, and your business logo, make any CSS changes to your website & apps, etc. The main advantage of using builder is to have everything in the grip of your hand, not only this; you don't have to be an IT expert to handle the website.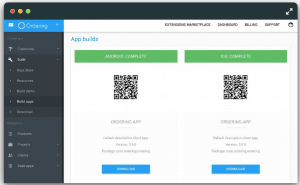 Ordering Editor (New Invention)
A whole new concept to manage your business and orders easy & efficiently. With our Ordering Editor, you can change every aspect of your Ordering Site in just a few clicks, set Payment Methods, add Delivery Zones, shift Business Info., create schedules & much more. Live-time changes will be shown every time you edit an item.
Even you can do all customizing for your Stores & Images in just a drop; updates are done instantly on your front-end.
Easy click & edit all the categories, products, prices, menus and much more. With our Editor, you won't need to do changes somewhere else, all you need to do is create the Users, or assign the Business Owners to the stores and it'll be instantly up to date. Select the Payment Method have never been this easy.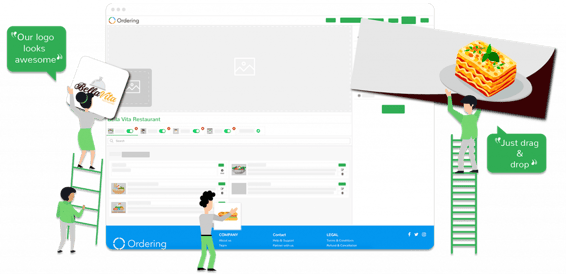 Ordering Widget (New Invention)
Commonly known as an element of a graphical user interface (GUI) which can display information or provides a specific way for a user to interact with the operating system/website or on Apps.
This is one of the smartest integration that Ordering has done to help you get more & more customers attention through it. It can be integrated into your website or on any pages you may feel like, to help your customer place an order without entering your website. The fastest way to place an order, which is only invented by Ordering Co.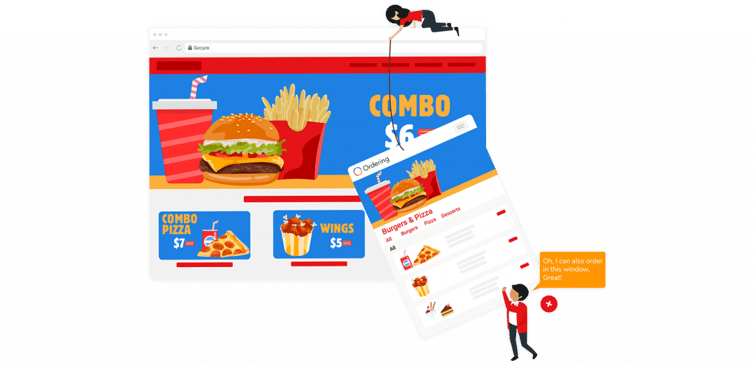 Hope this article might help you in choosing the right platform for your multi-vendor business. If you have any questions, Get in touch with us, by just filling the form below, we will be right there to assist you with your queries: