Benefits of Food Delivery Websites
by Ordering, on May 16, 2018 5:26:49 AM

Technological progress has transformed modern life in all aspects, which includes food delivery. Busy schedules have increased the demand for online delivery options. With a few selections and clicks, customers can place a food order and have their meal delivered to their door. It's indisputable that online food delivery options are growing fast and an opportunity you must offer to your customers in today's modern world.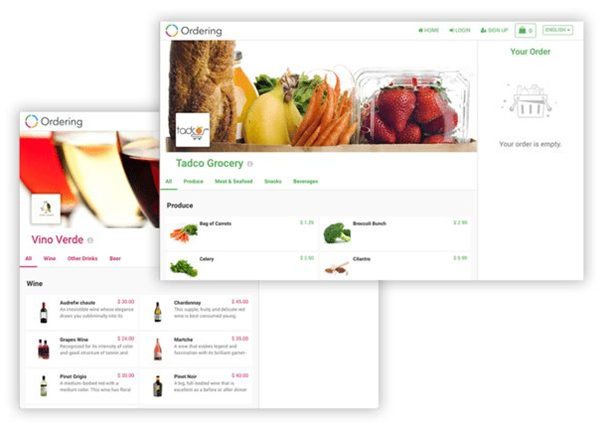 Your restaurant will benefit from a delivery website while your customers benefit from a better experience. Customer satisfaction
Customers love the convenience food delivery websites offer. It's simple and allows them to have minimal contact with the restaurant if they are trying to adhere to a busy schedule. Viewing the menu online enables the customer to stay within a required budget as they know exactly what they want to spend. Payment can be made online, so the process is complete aside from collecting the order or waiting for delivery.
Brand awareness
Whether you are just beginning in the restaurant business or are trying to increase trade, delivery websites are the key. You can promote your business online through your website. Using online social media sources, you can improve your business with
Welcoming offers and a link to your website. These increases brand recognition and allows you to entice potential new customers when they can see exactly what your menu has to offer. Competition may be significant, but it has never been easier to get yourself out there, so you must keep up with the growing trend.
Simplicity
The traditional way of phone ordering came with many issues. Staff found themselves tied up reading through menus with customers and errors are sometimes unavoidable. A rushed call with a customer with disturbances in the background can quickly lead to misunderstanding and inevitably may not give the best impression for your customers.
Food delivery websites
take this room for error out of the equation. Plan ahead People like to plan to fit meal times into their schedule at their convenience. Delivery websites allow customers to schedule their order to be ready for collection/delivery at their preferred time. Restaurants can then plan, and the customer experience is enhanced.
Easy adjustments
If you have a change in your menu or wish to remove something, it's so easy to do with delivery websites. Changes to opening hours or out of stock items can be updated simply. You can take a look at the order pattern of your customer base and adjust your menu accordingly.
Improving customer experience is at the forefront of business discussion. Offering customers such a fantastic tool will massively enhance the knowledge and offer intelligence to your business. Delivery websites are convenient; they promote your brand and reach out to a massive audience of potential customers. With a delivery website, you have the opportunity to offer a valuable service to your customers that have huge business benefits too. Loyalty programs, social media links to share reviews, and promotions can all be displayed on your website to increase loyal customers and gain new customers.